Q Sanding System
Sanding curved surfaces and small radius objects is much more difficult than large ones. Sanding concave areas historically meant hand sanding. Our award-winning Q Sanding System enables you to sand inner curved surfaces easily and perfectly. No need to use a sanding mop, flap wheel, or a drill with a drum sander attachment.
Q Sanding offers a new, patented solution to sand inner curves by machine instead of by hand! The unique flexible edge bends with the curve of the part. It just follows the contours of whatever you're sanding.
On a concave surface, it is difficult for a regular sanding machine with a flat backing pad to make even contact, so contact tends to occur at the edges. Sanding parts with a curved sanding block by hand takes more time and requires some elbow grease. Leaving you with straight scratches and a lot of dust.
The Q Sander Q011 is specifically designed to sand curved surfaces and does an excellent job of reaching tight spaces.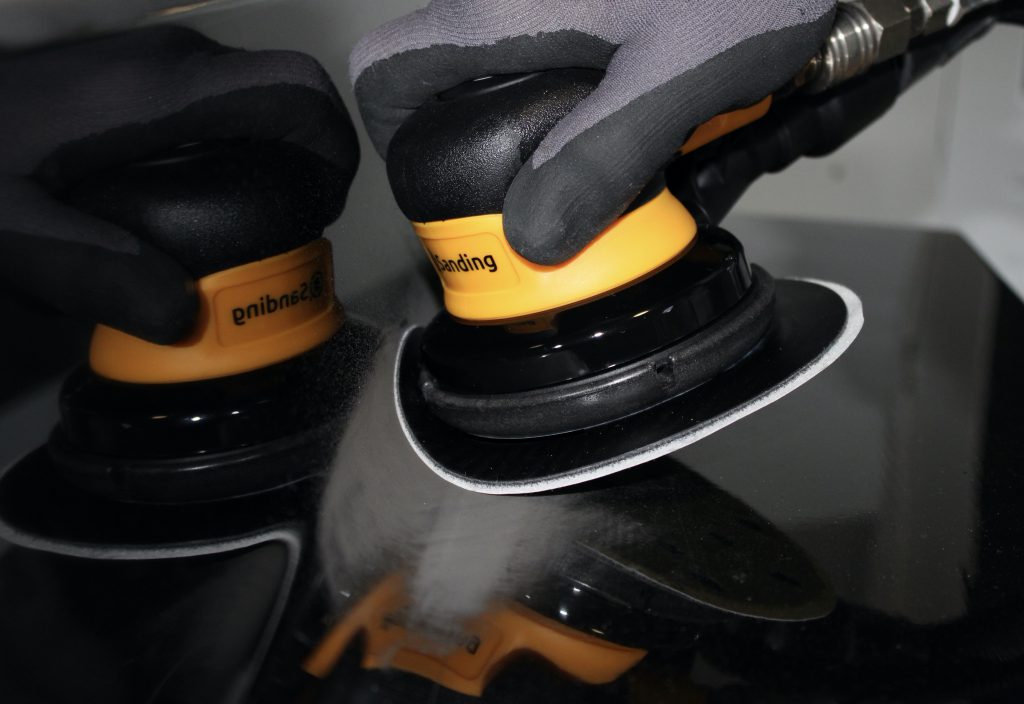 Make fast work sanding rounded, contoured objects and surfaces. The Q Sanding System is the solution for inner curves where sanding is a challenge.
The Q-Sander is applicable in the maritime industry.
Using the Q Sanding System considerably speeds up your final surface preparations before applying topcoat and improves the quality of the sanded product. It creates an orbital sanding pattern that helps eliminate scratch and pressure marks that can be created by hand sanding on curved surfaces.
Designed for sanding inner rounded shapes on primers, topcoats, and clears. For instance,
Sanding bulwarks
Sanding portholes
Sanding coves, style lines
Stainless steel, furniture, etc
You can sand next to a tape line like never before. With just mm to scuff afterward. Put it in the right hands you can do work that you never dreamed was possible with a machine.
Above all using the machine is an added value due to the time savings and the improved quality of the sanded product.
Read more about the Q Sanding System, Products
For questions or order directly from Q Sanding, please fill out our contact form.