Q-Sander Q002 Elc. Sanding machine for curves.
Q Sanding offers a new patented solution to sand inner rounded surfaces by machine instead of by hand! The unique flexible edge bends with the curve of the part.
At a Glance
Outstanding brushless DC motor generates 350W force with high torque. Closed motor design prevents dust- stained lift extension.
Flexible lever adjustment provides ideal speed control
User friendly speed control design with various speed setting: 4000rpm / 7000rpm / 9000rmp /10000rpm.
Sealed circuit board locks dust and moister out.
Low profile 105 mm with soft touch grip.
5Meter cable is with anti-static measure.
Duel-channels vacuum design enhance vacuum efficiency.
Extremely smooth quiet operation.
This set comes with 2 interchangeable backing pads, 125mm and a flexible backing pad 150, 1 x interfacepad 5mm, 1 x interfacepad 10mm.
Technical Details
Power: 150W (350W Max) Volt: 220-240V
RPM / M: 4000 – 10000
Noise level: 62,75 DB
Orbit: 2,5
Weight: 1,41 kg
For questions or order directly from Q Sanding.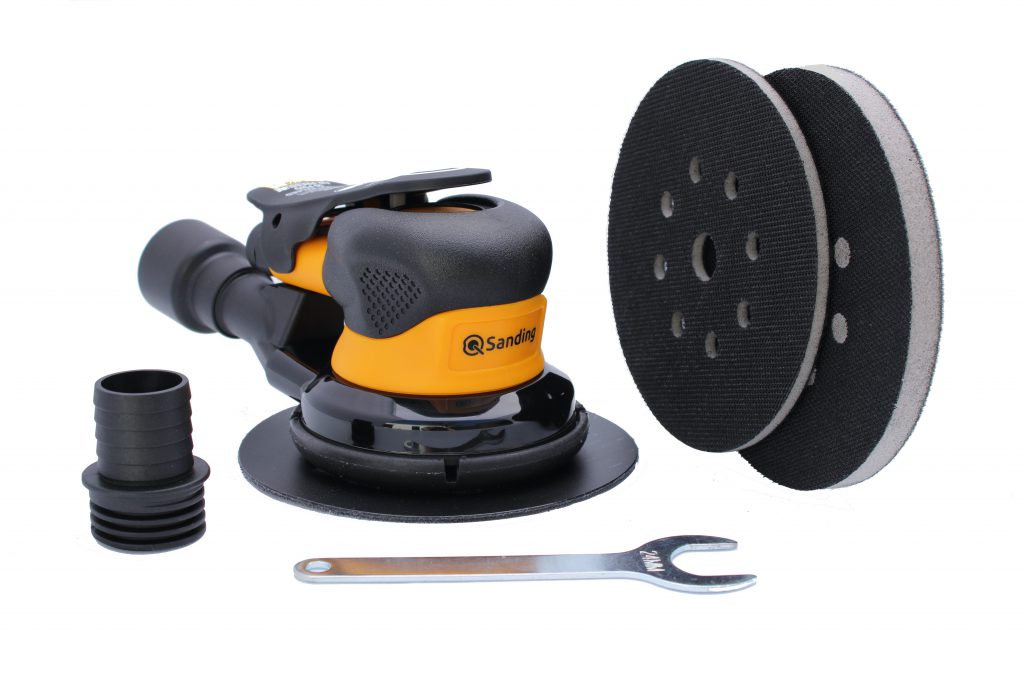 Q-Sander Q011 Air – Sanding machine for curves
High-quality air sander specially for the patented Q-Backing pad. For sanding concave surfaces by machine instead of by hand. For sanding primers, topcoats, or clears.
Significant: Q-Sander is the solution for inner roundings where sanding is a challenge.
Winner of the Wold Tool Awards 2022
At a Glance
Equipped with extra narrow extractor hood and durable bearing.
Curved-throttle lever with unique wrist support, that provides unparalleled durability.
The ergonomic grip provides superior vibration absorption for reduced hand fatigue and an improved feel for the machine.
Conveniently located speed control.
Attaches to your existing central vacuum system for dust extraction.
Choosing for Q Sanding Technologies innovation to sand inner roundings by machine, you'll not only get a better result. You'll also sand up to five times faster. It will improve your productivity, profitability, and work mentality.
Technical Details
Dimensions (Length): 195mm.
Max. speed: 12,000rpm.
Motor: 0.28hp.
Orbit diameter: 2.5mm diameter
Air Pressure Max 90PSIG/6,2 bar
Diameter 144 mm
Weight < 825 gram
Check the Q Sander demo video
Sanding curves and contours with a Radom orbital sander? Let the inventor explain it all to you.
Quintin Broussard is a master yacht painter since 1989 and knows the high demands the yachting industry expects to achieve that first-class look.
For questions or order directly from Q Sanding