Nominated by Chamber of Commerce Innovation Top 100
350 entries, finalist in the 100 best Dutch innovations, and then get place 34! We are very happy to end up in the first 10%
On Tuesday October 4, 2022, the Chamber of Commerce in The Netherlands presented for the 17th time the ranking of 100 concrete innovations that Dutch small and medium-sized company's have realized.
Q Sanding has placed itself in the top 100 and of course we are very proud of that! Read the contribution of the Chamber of Commerce Innovation Top 100
Sanding machine for sanding round shapes
Sanding is a surface treatment in which a rough medium is rubbed against a material. Often sanding is almost always in preparation for painting or treating the material. But sanding round shapes is often difficult, especially on boats that often have many (hollow) curves. Q Sanding has developed a flexible sanding disc that bends along with the curve. The ideal solution for sanding round shapes.
Concave surfaces
Q Sanding offers a unique solution for machine sanding curves or hard-to-reach areas. The patented flexible backing pad flexes with any curve greater than 35mm.
It just follows the contours of whatever someone is working on. The Q Backing pad has a flexible edge that allows it to easily adapt to the radius of any part, including the inside of portholes.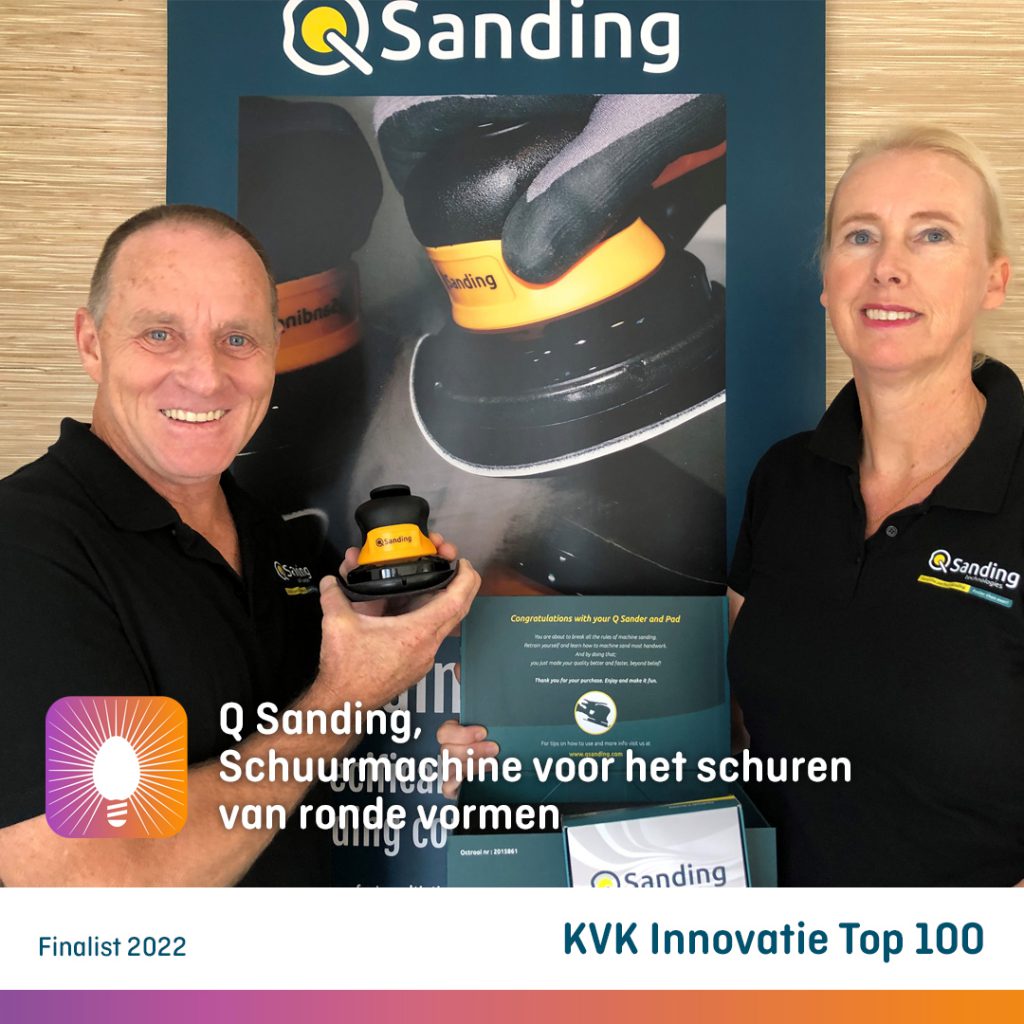 Better result
Sanding by hand often leaves sanding scratches. It also costs more time, energy and produces a cloud of dust. The Q Sander speeds up the final surface preparation considerably. It creates an orbital sanding pattern that helps prevent straight scratches and pressure marks that can be created by hand sanding in concave rounded surfaces. The user can also finish sanding up to five times faster.
Recognition
The Q Sander is the winner of the World Tool Awards in the Professional class of the pneumatic sanding machines category. The jury was particularly impressed with the performance and quality of the sander. This machine is indispensable in the maritime sector.
The winner of the Chamber of Commerce 100 edition 2022 will be announced on November 30 in AmersfoortNL.
Press release: KVK innovatie Top 100